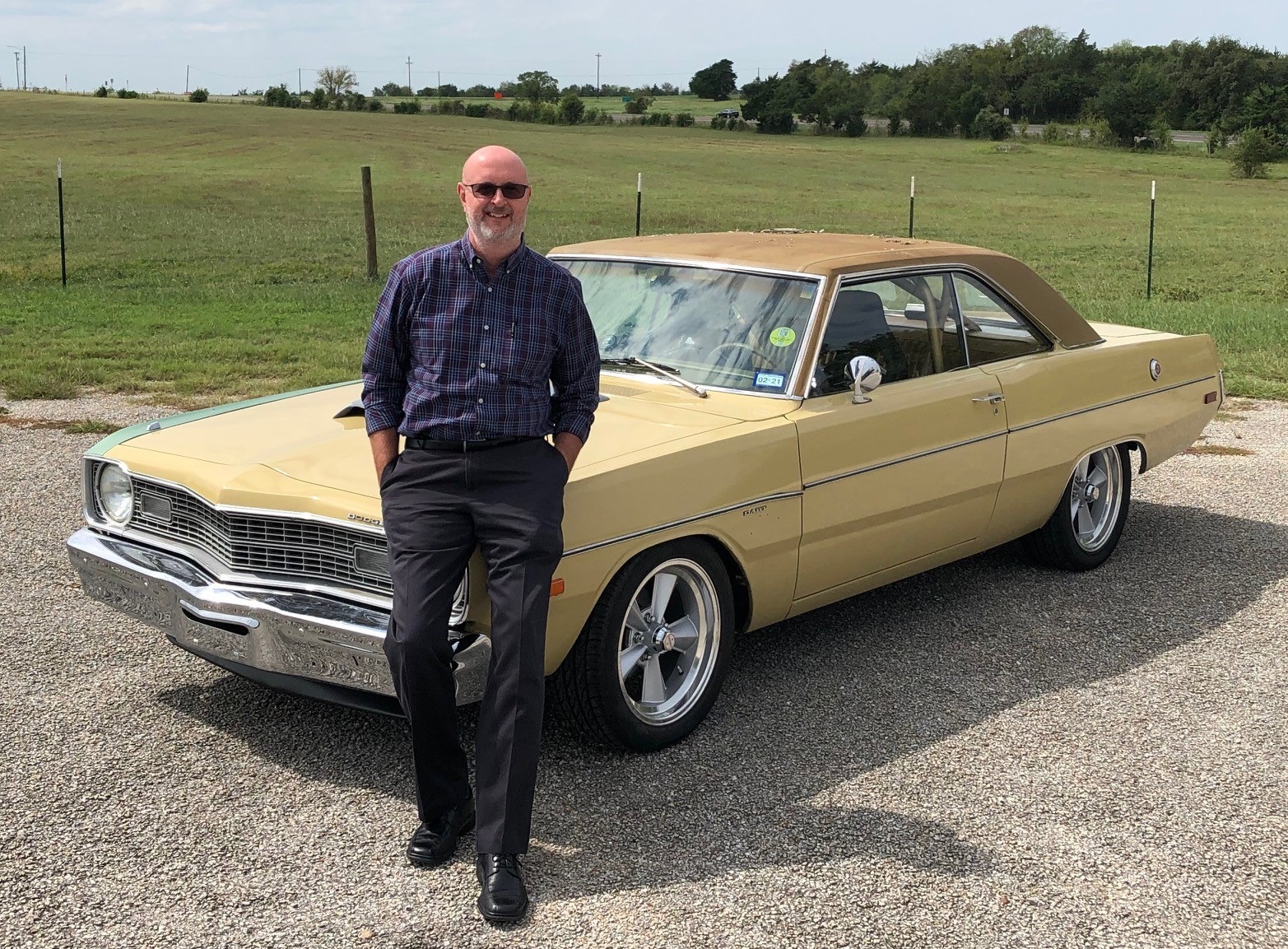 Last year, Jeff Sadler was among the many Texans who weighed-in on SAN-supported legislation creating a specific registration and titling class for former military and assembled vehicles, including kit cars and dune buggies. The Sadler family's own 1970s-era dune buggy—a "family heirloom of sorts"—directly benefitted when Governor Greg Abbott signed the bill into law. The law provided guidance to the Texas Department of Motor Vehicles (DMV) on how to treat such vehicles. Previously, there was no specific registration and titling class for certain assembled vehicles, such as offerings similar to the legendary Volkswagen-based Meyers Manx.
Additional background about Jeff:
What rides are in your collection?
1973 Dodge Dart Swinger (pictured above): It's ugly on purpose! I'll drive it everywhere and park it anywhere without fear of door dings or getting dirty. It has a 360ci Magnum V8, Holley Sniper XFlow EFI, GM 700r4 trans, Dana 60 rear end w/ 3:54 gears. It's pretty snappy w/ 400TQ at the wheels.
1970s Dune Buggy: This car was passed down from my wife's parents and it goes by the name "Clyde."
1990 Regency Conversion Suburban: It's my daily driver and known as "The Mariachi Van."
Any projects in the works?
Currently prepping my Dart for an event in Alabama called Mopar Vs. Brand X and for the Spring 2021 TX Mile.
Which vehicle tops your wish list?
It's a bit of an eclectic choice, but I've always wanted a 1971 Stutz Blackhawk Series 1. Someday I'll own one!
#1 fantasy powerplant?
Without a doubt, the famous Nelson Racing Engines 406ci Injected and Intercooled Twin Turbo.
Favorite automotive memory?
I had a neighbor with a lifted Ford 4X4 Pickup known as "Jungle." The truck left an impression on me as a child. This was during the era of BIG FOOT and it was like having a monster truck in my own neighborhood. I believe the truck competed in tug o' wars with a 427 SOHC motor. It was also known to do some 4-wheel drifting on rare snowy/icy days in north Texas. I'll never forget the sound of that big block.
Where should every "gearhead" visit?
I have several places. The Petersen Museum: go at least once a year—it's an incredible facility and houses so many famous and historic cars in one place. I'm always amazed how the experience is different every time you visit. They do a stellar job at rotating exhibits. The second would be The Haas Moto Museum. The collection of motorcycles in that little museum is unrivaled. It's such a beautiful place. The third would be any top speed event. You haven't lived until you've heard a big block roar past you doing 180mph+ at 6,000+ RPM.
Your automotive bucket list?
1.) Goodwood Festival of Speed, 2.) Australian Street Machine Summernats, 3.) Bonneville Speed Week, 4.) Australia Powercruise.
Your automotive heroes?
Car: BIG RED Camaro
Person: So many! David Freiburger, Mike Musto, R.J. Gottlieb, Jimmy Shine, Billy Gibbons and Ed Tillrock top the list. Each one is doing their unique part to shine a positive light on classic cars, HOT RODS and hot rodding.
Favorite places on the web?
Hemmings, 1320video and Speedhunters
Why are you involved with the SAN?
We live in a time when automobiles are viewed more as appliances than ever in American history. We need more people to speak up and make it known that automobiles are much more than a wi-fi enabled refrigerator on wheels. Automobiles provide a respectable living, hobby, shared family experience and lifestyle that is the backbone of America. Like most times in life, the squeaky wheel gets the grease. If we, as car enthusiasts, don't speak up and make our voice heard we'll be legislated out of the hobby and lifestyle we all love so much.